V&T Box Car No. 1005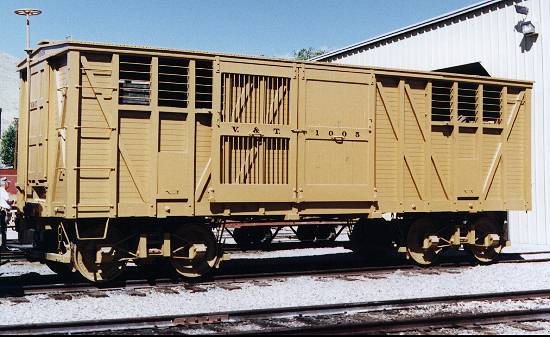 Pictured in front of the shops at the Nevada State Railroad Museum is Virginia & Truckee boxcar No. 1005. It has been restored to it's 1872 appearance. The No. 1005 is one of many Virginia & Truckee equipment that can be viewed at the museum at Carson City.
John H, White, Jr., Transportation Curator of the Smithsonian Institution, described No. 1005 as "one of the very oldest American freight cars in existence ..." Originally built at a cost of $800 in 1872 by the Central Pacific Railroad Shops at Sacramento, the outside braced combination boxcar first saw service on the Virginia & Truckee early in 1873.
The choice of this particular type of car, with its open and/or closed style of doors and windows, proved superior very early to transporting not only merchandise, but perishable supplies and livestock. Since the V&T had very little rolling stock of its own, and rented locomotives, passenger and freight cars from the Central Pacific in the first years, it is not surprising that when the need arose for cars that the V&T chose to order them from the CP.
Identified as a combination boxcar, the yellow painted No. 1005 was one of five CP built boxcars that enabled the V&T to carry a multitude of loads. Originally furnished with hazardous link and pin couplers and hand operated brakes, new ICC rules laid down in the late 1890's compelled the V&T to equip the car with a safer type of coupler and Westinghouse air brakes. It was also during this decade the 30,000 lb. capacity car lost the distinctive vented side and end doors when shop crews converted it into a more conventional style.
Because of its restricted carrying capacity, No. 1005 saw limited service after the early 1900's. By 1916, records indicate the 43 year-old boxcar was no longer listed on the roster as the V&T's freight business fell short to warrant upgrading the car. No. 1005 was then detrucked and used as a tool house at Scales for the next 20 years. Then in 1933, to fulfill Paramount Pictures' request for vintage railroad rolling stock for their film epic "Union Pacific," the wooden car body was resurrected, placed on trucks and shipped to the movie location in Utah.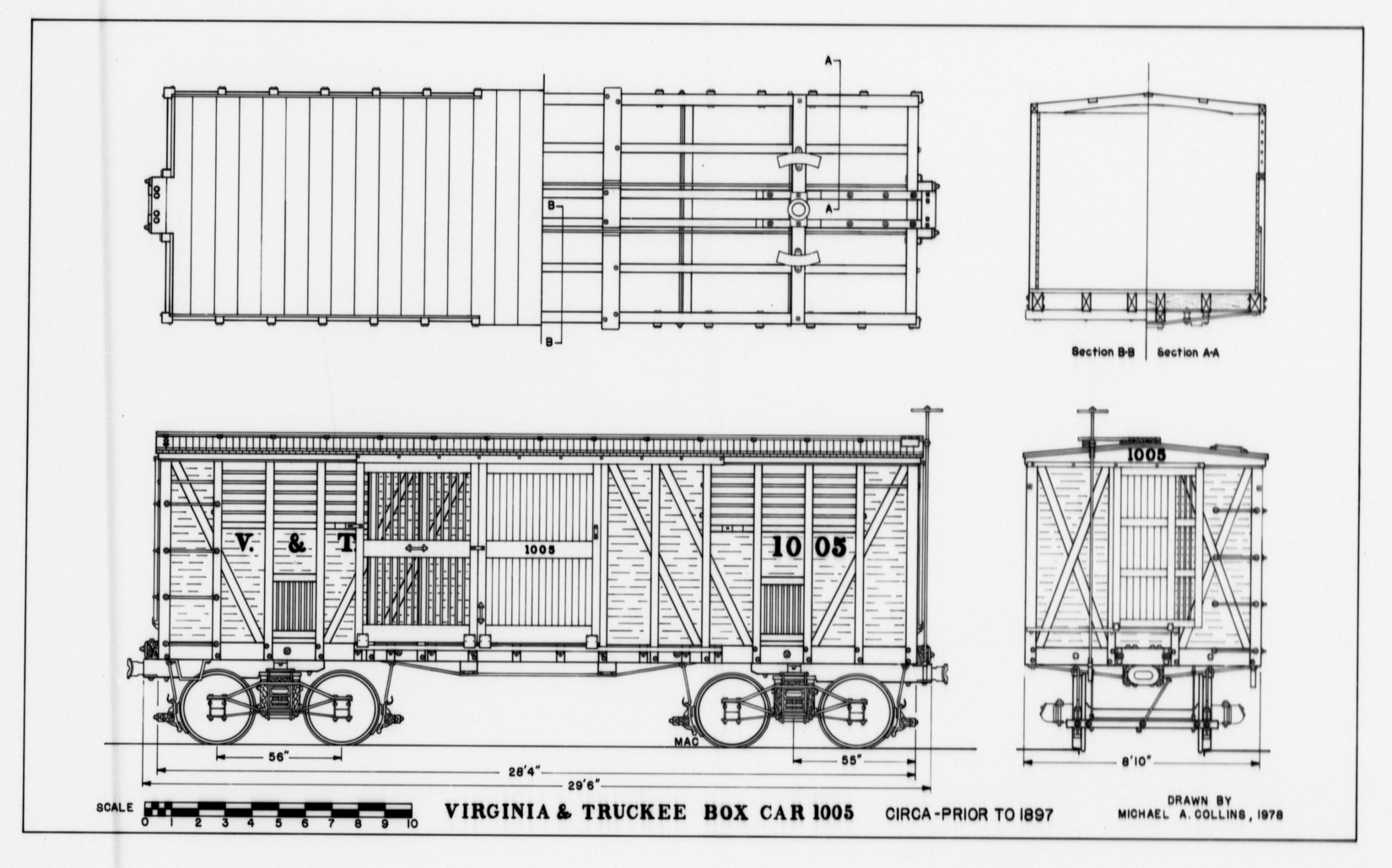 No. 1005 Circa-Prior to 1897 - Drawing by Michael A. Collins


Return to Previous Page
Modified Monday December 08, 2008