V&T Coaches No's. 11 & 12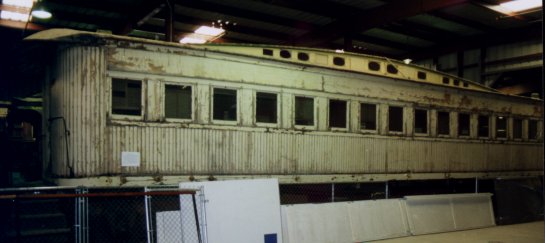 Photograph of No. 11 or 12
Coaches Nos. 11 and 12 are two of the more unique cars in the entire Virginia & Truckee collection; ornately styled with the unusual arched clerestory roof and rounded end construction. The two passenger cars were built sometime prior to 1874 by J. G. Brill & Co. of Philadelphia, Pa. as demonstration cars. They were 2nd class coaches, as denoted by their lack of end windows. No other cars like them exist today. They are in remarkably good condition, considering their age.
Measuring some 47 feet in length, the cars are of all wood construction. Inside, a light oak paneling adorns both the regular and the separated smoking sections. Louvered shutters, which can be raised and lowered, kept the sun at a distance, while above, 28 alternating small red and white glass windows with etched floral designs added an elegant touch to the clerestory.
Purchased for $2,500 each, coaches 11 and 12 entered service in April of 1874 following minor alterations and additions by the V&T shop crew. Operating only a few years in the Lightning Express, they were relegated to secondary and picnic train service by the late 1870s. After 64 years of use, Paramount Pictures acquired the two cars for $500 each in 1938. Their first role before the cameras was in the Cecil B. DeMille railroad epic Union Pacific. After some 30 years of film chores the cars returned to Carson City in 1971. Both of these cars are awaiting restoration by the Museum.



Return to Previous Page
Modified Monday December 08, 2008