Lake Tahoe Railway & Transportation
Combination Passenger-Baggage Car No. 24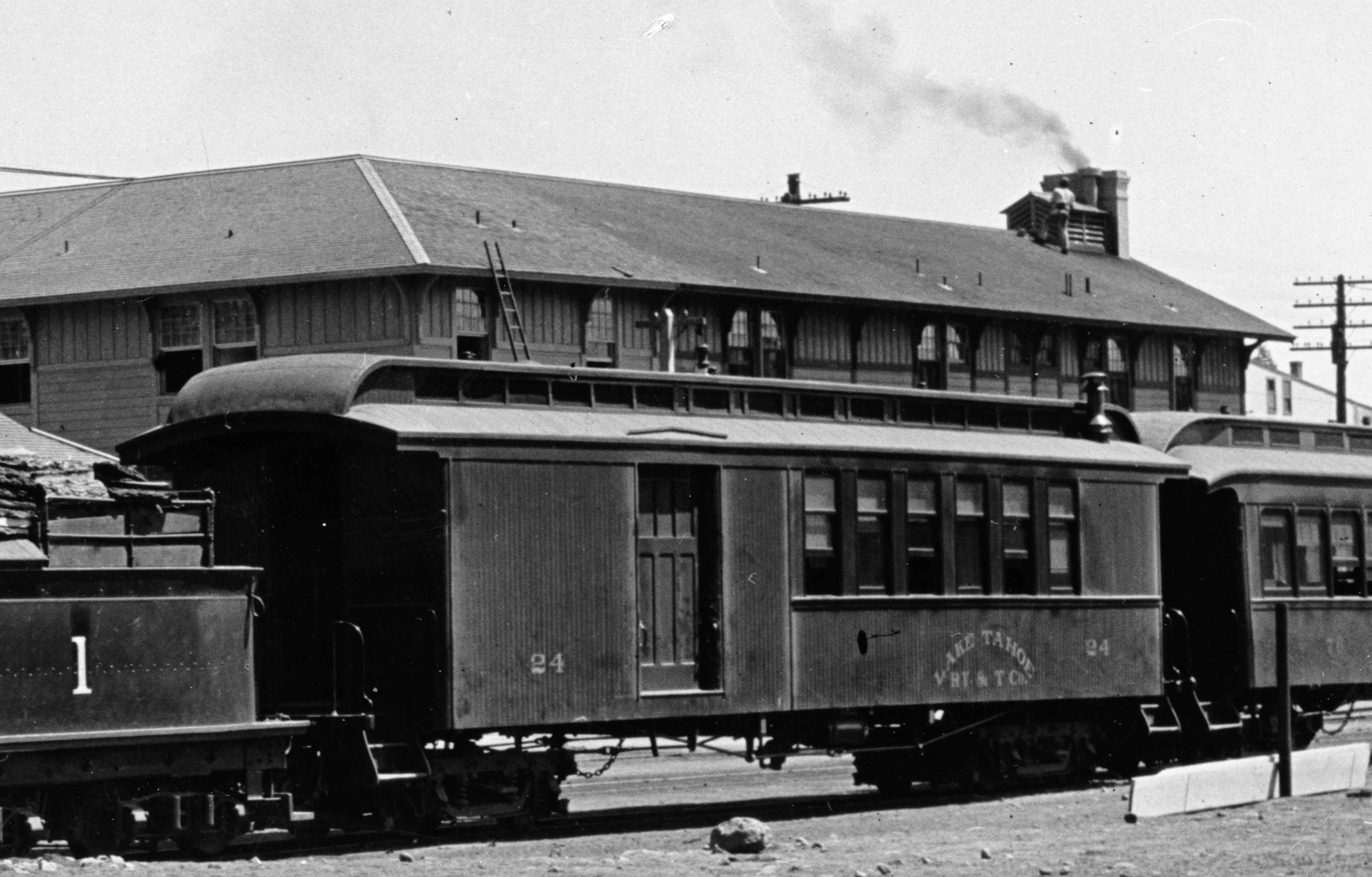 Combine No. 24 at Truckee, California, ca. 1915. Photo courtesy Don Marenzi, Nevada State Railroad Museum negative 8087.

Narrow gauge Lake Tahoe Railway & Transportation Company (LTR&T) combination passenger-baggage car No. 24 has a clouded past. Who built the car, and what railroad it originally operated on are so far unknown. Indications are that the the car was either built for or acquired by the Southern Pacific Company in 1896 for $2718 as No. 1324. In 1903, it was renumbered to No. 24.
When the Tonopah boom started in the southern Nevada desert in 1904, SP Co No. 24 and a sister car No. 25 were leased to the Carson & Colorado until the northern part of that line was converted to standard gauge in 1905. The following year, the LTR&T purchased car No. 24. SP Co No. 25 was shipped back to Sacramento, where it was purchased by a private individual in 1907.
On the LTR&T, combination car No. 24 frequently operated behind locomotive No. 1, the Glenbrook, carrying passengers from the Southern Pacific connection at Truckee to the Lake Tahoe shore at Tahoe City. Here, passengers transferred to LTR&T steamships, such as the famous Tahoe, for the ride across the lake to the many resorts around the shore.
In 1926 the LTR&T was sold to Southern Pacific and converted to standard gauge. In this way, combine No. 24 returned to its original owner. Southern Pacific transferred the car to its newly acquired Nevada-California-Oregon Railroad (NCO) in 1927, where it was used as a maintenance-of-way bunk car. After the NCO was converted to standard gauge in 1929, car No. 24 was placed on the ground in Alturas, California, as a dwelling.
There it remained until 1987, when owner Steven Godfrey donated it to the Nevada State Railroad Museum. It was trucked to Carson City in June of that year, and is presently awaiting restoration. One day it will again trail behind the locomotive Glenbrook, recalling the days when railroads operated to the shores of Lake Tahoe.



Return to Previous Page
Modified Monday December 08, 2008