Las Vegas & Tonopah Chair Car No. 30
"Tonopah"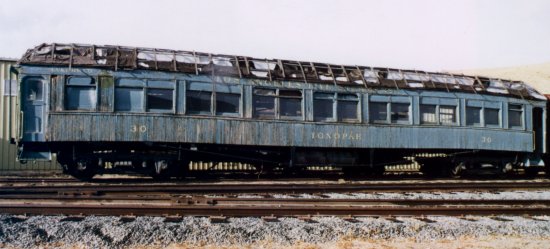 The Las Vegas & Tonopah Railroad was promoted by Senator William A. Clark (rich from mining in Butte, Montana). Senator Clark had first projected the San Pedro, Los Angeles, & Salt Lake, running between the cities of those names. The Union Pacific Railroad under E. H. Harriman also planned to expand along the route. After several years of competing construction, Harriman and Clark reached an agreement and merged their companies, finishing the line a few years later.
With the agreement with Union Pacific in place, Senator Clark then promoted a railroad from Las Vegas to the booming mines of the Bullfrog district around Rhyolite. Las Vegas & Tonopah chair car No. 30 was built by the Pullman Car Company in 1907. It is a close match to the Harriman Standard designs of the Union Pacific and Southern Pacific Railroads, not surprising given Senator Clark's association with the Union Pacific. The car is arguably the most intact surviving example of this Harriman Standard design.
Of the three railroads connecting the Tonopah-Bullfrog region with the outside world, the Las Vegas & Tonopah was the first to go under, being scrapped during World War I. Chair car No. 30 was retained by the scrapper and used as an office on different jobs. Eventually it was donated to the Los Angeles Live Steamers in Griffith Park near Travel Town. A caretaker lived in the car. In the 1980s the car was suffering from the weather and the years, so the Live Steamers donated it to the Nevada State Railroad Museum, where it awaits restoration.

Return to Previous Page
Modified Monday December 08, 2008