V&T Wrecking Car No. 57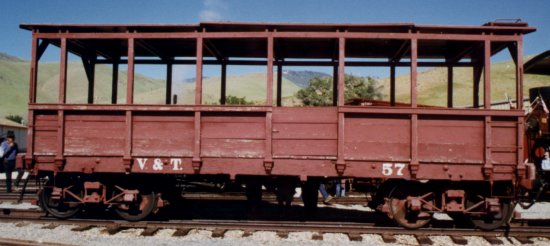 Virginia & Truckee wrecking car No. 57 was built in 1874 by the Oxford Co-op Car Company of Oxford, PA. as flat car No. 178. In the 1902 general renumbering the car became No. 132. In 1923, the car was converted to a wrecking car and given the number 57. It was the second car to carry that number on the V&T.
No. 57 served until 1950 on the V&T. It was transferred to the Nevada State Railroad Museum via the Nevada Heritage Association. The car retains its original appearance, but has been fitted with seats and safety features, and serves as an "air conditioned" passenger carrying car during steam up weekends.

Return to Previous Page
Modified Monday December 08, 2008