Chicago Great Western
Locomotive No. 1000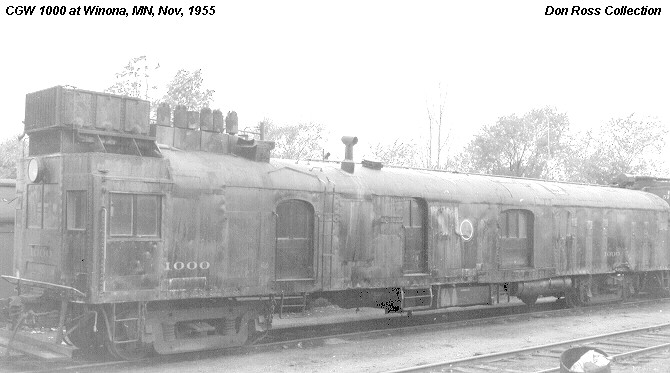 While it may not look like it, the Nevada State Railroad Museum's latest acquisition, Chicago Great Western locomotive no. 1000, was built in 1910 as a 70 foot McKeen car, CGW no. M‑1002, one of three McKeen's delivered to CGW that year. M‑1002 was very similar to Virginia & Truckee McKeen 22 except for the unusual square bottom‑round top windows on M‑1002 instead of the typical McKeen porthole windows. CGW McKeen M‑1000 also delivered in 1910 had porthole windows, but no. M‑1001 like M‑1002 had the unusual windows.
In the 1920s the CGW upgraded its motorcar fleet. M‑1002 received a Climax steam engine and boiler in place of its McKeen power plant in 1923. In 1928 it was again taken into the CGW's Oelwein shops, along with sister M‑1001 and a second hand McKeen of unknown origins, and rebuilt into the 3‑car train Bluebird. McKeen M‑1002 became power car M‑1000 with a flat nose, an Electro‑Motive Corporation (EMC) 300hp Winton gas‑electric power plant and a new front power truck from St Louis Car Co. The car body also contained a railway post office and a baggage room. McKeen M‑1001 became coach trailer MT‑1001, while the used McKeen was rebuilt as trailer MT‑1002 with a first class coach section, 4 Pullman sections (lower berths only), a club lounge in the rounded rear end, and a galley to provide meals.
Billed as "America's Premier Deluxe Motor Train," the Bluebird was inaugurated on January 13, 1929 between Minneapolis‑St. Paul and Rochester, home of the Mayo Clinic. The timing was poor. The Depression, combined with increasing auto and bus competition, resulted in the train's cancellation in January 1930. The trailer cars continued to be used in various service, finally being scrapped in the 1940s. M‑1000 eventually became a switch engine in the Winona yards, where it remained until the early 1960s. It was shortened from 64 feet to 32 feet by the removal of the baggage compartment in 1958. After retirement it was sold in 1964 to the Kettle Moraine Railroad, from whom Nevada Sate Railroad Museum acquired it. It will supply some needed original McKeen parts for V&T 22.
CGW 1000 today



Return to Previous Page
Created Monday December 08, 2008