V&T Locomotive #17 "Columbus"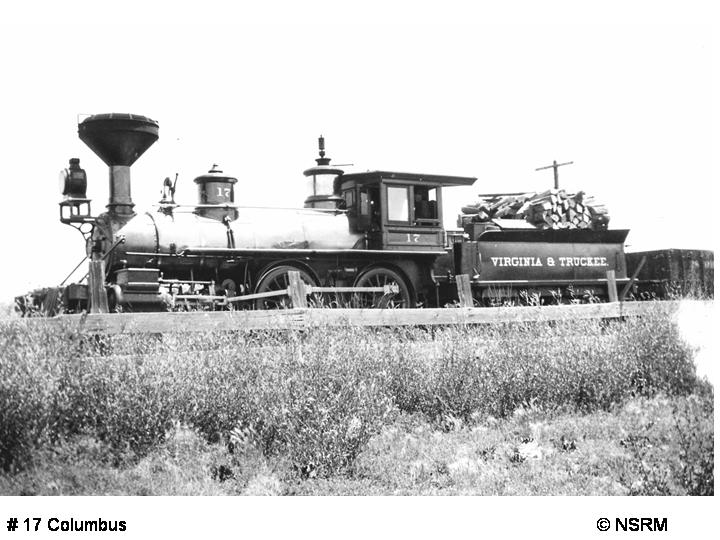 The Comstock's Big Bonanza year of 1873 was a busy one for the Virginia & Truckee Railroad (V&T). The railroad needed additional locomotives to handle all the traffic. The V&T rented locomotives from the Central Pacific, but it was clear they needed to purchase some of their own. Five new engines were purchased, but the V&T needed more. When it was learned that the Central Pacific Railroad (CP) planned to construct ten new locomotives in their Sacramento General Shops, the V&T prevailed on the Central Pacific to build two engines for them, No.17, Columbus and No.18, Dayton.
Designed by Master Mechanic A. J. Stevens, a distinctive feature of the CP engines was a firebox design (U. S. patent no. 145,819), which improved the locomotives in three ways. The first intended to place more water around the rear of the boiler tubes. The design also improved the draft from the firebox door. And finally, it placed a greater portion of the locomotive weight on the drive wheels, which increased the pulling power of the locomotive.
Columbus arrived in Reno on September 5, 1873, and was placed in regular service between Carson City and Virginia City. It spent the next several decades hauling freight and mixed trains on the V&T.
In 1910, Columbus was dropped from regular service, and was retired in 1913. After its retirement, Columbus was slowly stripped of parts to repair the Dayton and other equipment. Finally in 1917, what was left of the locomotive was scrapped.
Manufacturer: Central Pacific Railroad
Date Built: 1873 (modeled to 1910 appearance)
Type: 4-4-0
Tonnage: 37 tons
Status: Scrapped
Text by Kyle K. Williams Wyatt, Historian/Curator of Technology, California State Railroad Museum, Old Sacramento

Return to Previous Page
Created Monday December 08, 2008