V&T Locomotive #4 "Virginia"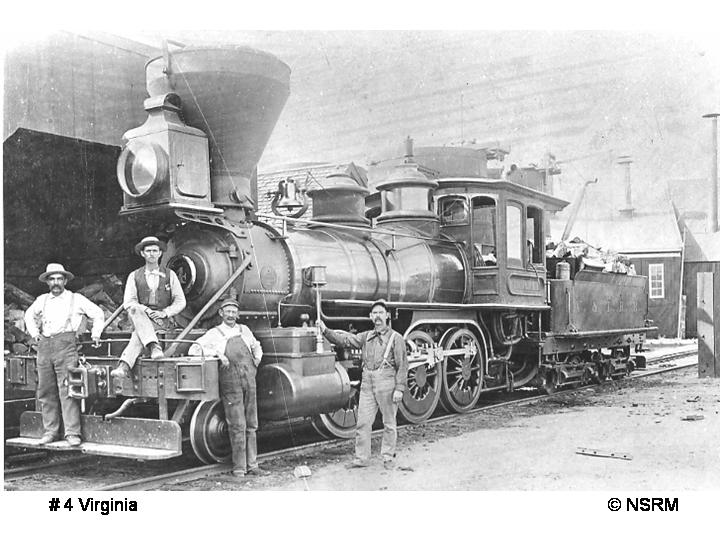 The Virginia was the first in a long line of Baldwin locomotives to run on the Virginia and Truckee Railroad. When the locomotive arrived in Reno in October 1869, it was partially dismantled and dragged by 28 oxen to the Comstock via the mountainous Geiger Grade. According to V&T historian Ted Wurm, Virginia's arrival in Virginia City was "heralded by gunshots, cannon booms, and shrieking mine whistles when the locomotive tooted its own whistle at the edge of town."
The locomotive was used as a switch engine in the Virginia City yards for many years. In 1870, on one of the occasions when Virginia was out on the mainline it was involved in a head-on collision with the nearly identical engine #5, Carson. This led to the immediate implementation of rules requiring written train orders for the movement of rolling stock on the V&T.  
Virginia was retired in 1910 to the Virginia City roundhouse. It was scrapped in 1918; however, its original Baldwin tender trucks survive to this day under the tender of #13, Empire, preserved at the California State Railroad Museum.
Manufacturer:        Baldwin Locomotive Works
Date Built:              1869 (modeled to 1904 appearance)
Type:                       2-6-0|
Tonnage:                28 tons
Status:                    Scrapped 1918
Text by Nevada State Railroad Museum

Return to Previous Page
Created Monday December 08, 2008