V&T Locomotive #20 "Tahoe"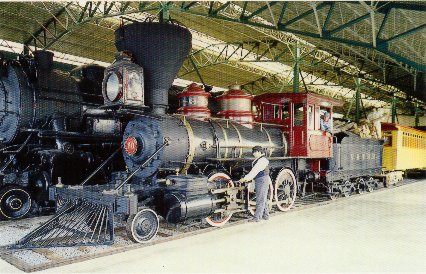 Photo by Hal Conroy. Collection, Railroad Museum of Pennsylvania, Strassburg, PA
The Tahoe was in service on the Virginia and Truckee Railroad (V&T) for 51 years beginning in 1875. The locomotive was used for most types of service on the railroad. Over the course of the years, the Tahoe saw its share of mishaps and accidents. In July 1887, it was hauling ore cars uphill to Virginia City, when some of the cars went off the rails near the Eureka Mill siding. While the Tahoe was stopped there, the Dayton, pulling the local passenger train, came around the curve and ran head long into No. 20 causing severe damage.
In the 1920s, brakeman Dutch Glanzmann worked on the Virginia City-Reno trains. He remembered years later that the heavier Mogul-type engine (2-6-0), the Tahoe, was "better, stronger" than the lighter American-type 4-4-0 Dayton.
The Tahoe was last used in April 1926; the engine was retired to the Carson City engine house and remained in storage until being re-activated during World War II. It was sold to Clifford C. Bong Construction Company in August 1942, and was used to build several railroad classification yards for the United States Army Corps of Engineers during the war. After the war, No. 20 was restored at Bong's Arcadia, California yard. In 1968, the Tahoe was sold to the Pennsylvania Historical and Museum Commission for preservation and is currently on display at the Railroad Museum of Pennsylvania, Strasburg Pennsylvania.
Manufacturer:      
Baldwin Locomotive Works

Date Built:
             1875

Type:
                      2-6-0

Tonnage:
               38 tons

Status:                   
Railroad Museum of Pennsylvania (on display)

Text by Michael A. Collins, Carmichael, California, and the Nevada State Railroad Museum

Return to Previous Page
Created Monday December 08, 2008