V&T No. 25 (2nd)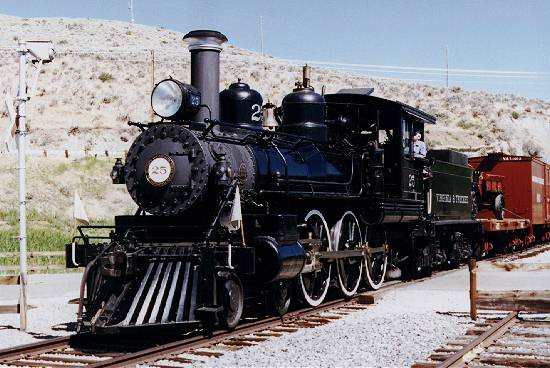 Caption: Pictured at Carson City during the Fourth of July celebration of 1995 is number 25, the second steamer to wear that number on the V&T. She is a Baldwin, 10-wheeler (4-6-0) vintage 1905. The number 25 replaced the 1st number 25, a Rhode Island American (4-4-0) built for the Union Pacific and purchased by the V&T during 1901. This photo taken by on July 2, 1995.

Overwhelmed by the freight traffic brought about by the Tonopah mining boom of the early 1900's the V&T recognized the need for a newer and more powerful engine to handle the increased tonnage, and hastened to order from Baldwin Locomotive Works the No. 25. Although the 78 ton engine was the second to bear that number, the ten-wheeler became the V&T's first new locomotive purchased since 1876. The first No. 25, an ex-Union Pacific engine, arrived in 1901, but failed to live up to expectations. Costing $8,425, second No. 25 originally burned coal; however, in 1907 it was converted into an oil burner and thereafter operated primarily as a back-up engine to the road's famed "Reno." On occasions, No. 25 hauled both passenger and freight trains between Reno, Carson and Virginia City. From 1911 to 1947, the busy 4-6-0 ran 80% of the time, averaging as many as 30,000 miles a year.
Characterized by V&T engineers as fast, light and easily handled, No. 25 made a niche in history by pulling the last scheduled passenger train to Virginia City in May, 1938. When that line was scrapped in 1941, the contractor hired the engine to assist in its dismantlement. As railroad cars became heavier and longer, the V&T sought a more modern engine as a replacement and sold No, 25 to RKO Pictures in 1947 for $5,000. For the next ten years the ex-V&T engine starred in a number of motion pictures.
No. 25 last operated under its own power in 1955 when the 50 year old locomotive hauled a special train between Los Angeles and San Pedro commemorating the 50th anniversary of the Union Pacific Railroad's Salt Lake Route.
Following the 1958 purchase of the old RKO movie studios, which included No. 25, by Desilu Productions, Inc., the locomotive was sold to Hurlbut Amusements of Buena Park, Ca. six years later. In 1971, the State of Nevada acquired No. 25 for $16,000, preceding an effort by rail fans to bring home vintage V&T equipment. No. 25 is now in occasional service during selected steam-ups during the year.


Return to Previous Page
Modified Monday December 08, 2008